In the landslide hazard profile, hazard maps were prepared using relative contribution of causative factors, namely, geology, lithology, slope angle, soils and land cover along with assigned weights and ratings based on their relative contribution.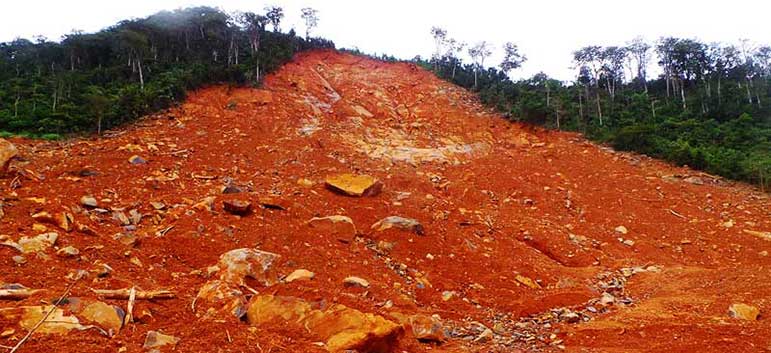 Landslides cover down slope movements of soil and rock material in masses under gravity. Many of the natural hill slopes that are considered safe in the past are now recording landslides due to human interventions in hill slopes. Landslides are normally associated with intense rains.
Spatial Predictability
Predictable
Importance
Very Important
Spatial Dispersion
Very Concentrated
The weights and ratings have been decided on considering expert opinion and statistical analysis of historical data. Considering the complex nature of landslide potential decided based on the variations of causative factors the predicted landslide hazard maps are expressed more in descriptive terms such as landslides are most likely to occur. Landslide hazard maps are useful in planning human settlements, infrastructure and other development activities and investments in mitigation.
Same
information provides the base for landslide guidelines and local authority level permitting in
landslide prone
areas. Landslide hazards in Sierra Leone have had severe negative impacts through loss of lives and properties as well as economic productivity. However, the impact of landslides and mudslides in Sierra Leone is highly concentrated in the Western Area where the combined effects of steep slopes, heavy rainfall, and unabated deforestation and construction provide a perfect recipe for mass movements. Over the last
decades
landslides have affected thousands of people across the country. Landslide disasters in Sierra Leone as a whole accounted for 42.7 percent of nationally reported geophysical/geohazard mortalities between 1990 and 2014[1], a proportion higher than that from
flood
, fire, and electric storms[2]. The 14 August 2017 landslide disaster alone left over 500 people dead, some 600 missing, with about 50,000 directly or indirectly affected in the densely populated Freetown. The most severe disaster occurred in Regent and Lumley districts with a massive 6 kilometres mudslide submerging and wiping out over 300 houses along the banks of the Lumley Creek[3]. From DesInventar data, around 250 people were affected by landslides between 2009 and 2016, among
them
57 died and 50 others were injured and about 20 houses were damaged or destroyed. Between 1980-2010 mass movements, mainly landslides and mudslides affected 5 people and killed 16 people (16% of the total)[4]. Leicester, Regent, Granville Brook, Cline Town, Moa Wharf, Hill Court Road, Kissy Brook, Dworzak, and Charlotte in the Mountain Rural District have been identified as areas prone to landslides[5].
Parameters

Landslide Hazard Profile Scale

1

2

3

4

5

Frequency

Very Rarely

Rarely

Sometimes

Often

Frequently

Magnitude

Trivial

Small

Moderate

Large

Very Large

Duration

Very Short

Short

Average

Long

Very Long

Areal Extent

Limited

Very Sparsely

Sparsely

Densely

Widespread

Spatial Predictability

Highly Predictable

Predictable

Likely

Randomly

Very Randomly

Speed of onset

Very Slow

Slow

Moderate

Fast

Very Fast

Importance

Not Important

Somewhat Important

Moderately

Important

Very Important

Spatial Dispersion

Very Concentrated

Concentrated Moderately

Moderately

Diffused

Widely Diffused
Area/District

Frequency Scale

Magnitude Scale

1

2

3

4

5

1

2

3

4

5

Western Area

 

 

 

 

 

 

 

 

 

 

Bo

 

 

 

 

 

 

 

 

 

 

Bonthe

 

 

 

 

 

 

 

 

 

 

Moyamba

 

 

 

 

 

 

 

 

 

 

Pujehun

 

 

 

 

 

 

 

 

 

 

Bombali

 

 

 

 

 

 

 

 

 

 

Port Loko

 

 

 

 

 

 

 

 

 

 

Tonkolili

 

 

 

 

 

 

 

 

 

 

Kambia

 

 

 

 

 

 

 

 

 

 

Koinadugu

 

 

 

 

 

 

 

 

 

 

Kenema

 

 

 

 

 

 

 

 

 

 

Kono

 

 

 

 

 

 

 

 

 

 

Kailahun

 

 

 

 

 

 

 

 

 

 
---
[1] Prevention Web Sierra Leone Disaster and Risk Profile (http://www.preventionweb.net/countries/sle/data/, accessed 14 July 2017) [2] A thunderstorm or other violent disturbance of the electrical condition of the atmosphere. [3] Sierra Leone: Flash Update OCHA West & Central Africa. (2015). (https://reliefweb.int/report/sierra-leone/sierra-leone-flash-update-ocha-west-central-africa-15-august-2017, accessed 9 September 2017) [4] Tarawalli, P. (2012). Diagnostics Analysis of Climate Change and Disaster Management in Relation to the PRSP III in Sierra Leone. Freetown: UNDP - SL. [5] Tarawalli, P. (2012). Diagnostics Analysis of Climate Change and Disaster Management in Relation to the PRSP III in Sierra Leone. Freetown: UNDP - SL.