Sierra Leone is more vulnerable to lightning and thunder due to more convective activities triggered by direct incidence of solar energy to the Earth surface. Life time of a lightning flash is about 20 milliseconds but it carries energy in the order of megawatts and currents ranging from 30,000 to 200,000 Amperes humans or property through.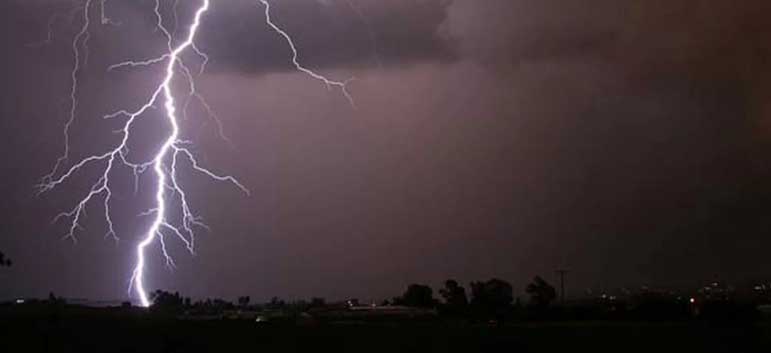 Spatial Predictability
Predictable
Importance
Very Important
Spatial Dispersion
Very Concentrated
Modes of lightning strike include side flash, contact potential, step potential and surge propagation of lightning causes property damages and 
down time
 in data and communications are significant.
In the lightning 
hazard
 profile data from eight AWS were collected and analysed for spatial and temporal distribution lightning events. Potential regions with high frequency for lightning were identified.Light hazard profile is useful to understand the spatial distribution of lightning events and for awareness and mitigation activities.

National Profile


Parameters

Scale

1

2

3

4

5

Frequency

Very Rarely

Rarely

Sometimes

Often

Frequently

Magnitude

Trivial

Small

Moderate

Large

Very Large

Duration

Very Short

Short

Average

Long

Very Long

Areal Extent

Limited

Very Sparsely

Sparsely

Densely

Widespread

Spatial Predictability

Highly Predictable

Predictable

Likely

Randomly

Very Randomly

Speed of onset

Very Slow

Slow

Moderate

Fast

Very Fast

Importance

Not Important

Somewhat Important

Moderately

Important

Very Important

Spatial Dispersion

Very Concentrated

Concentrated Moderately

Moderately

Diffused

Widely Diffused
District Profiles
Area/District

Frequency Scale

Magnitude Scale

1

2

3

4

5

1

2

3

4

5

Western Area

 

 

 

 

 

 

 

 

 

 

Bo

 

 

 

 

 

 

 

 

 

 

Bonthe

 

 

 

 

 

 

 

 

 

 

Moyamba

 

 

 

 

 

 

 

 

 

 

Pujehun

 

 

 

 

 

 

 

 

 

 

Bombali

 

 

 

 

 

 

 

 

 

 

Port Loko

 

 

 

 

 

 

 

 

 

 

Tonkolili

 

 

 

 

 

 

 

 

 

 

Kambia

 

 

 

 

 

 

 

 

 

 

Koinadugu

 

 

 

 

 

 

 

 

 

 

Kenema

 

 

 

 

 

 

 

 

 

 

Kono

 

 

 

 

 

 

 

 

 

 

Kailahun